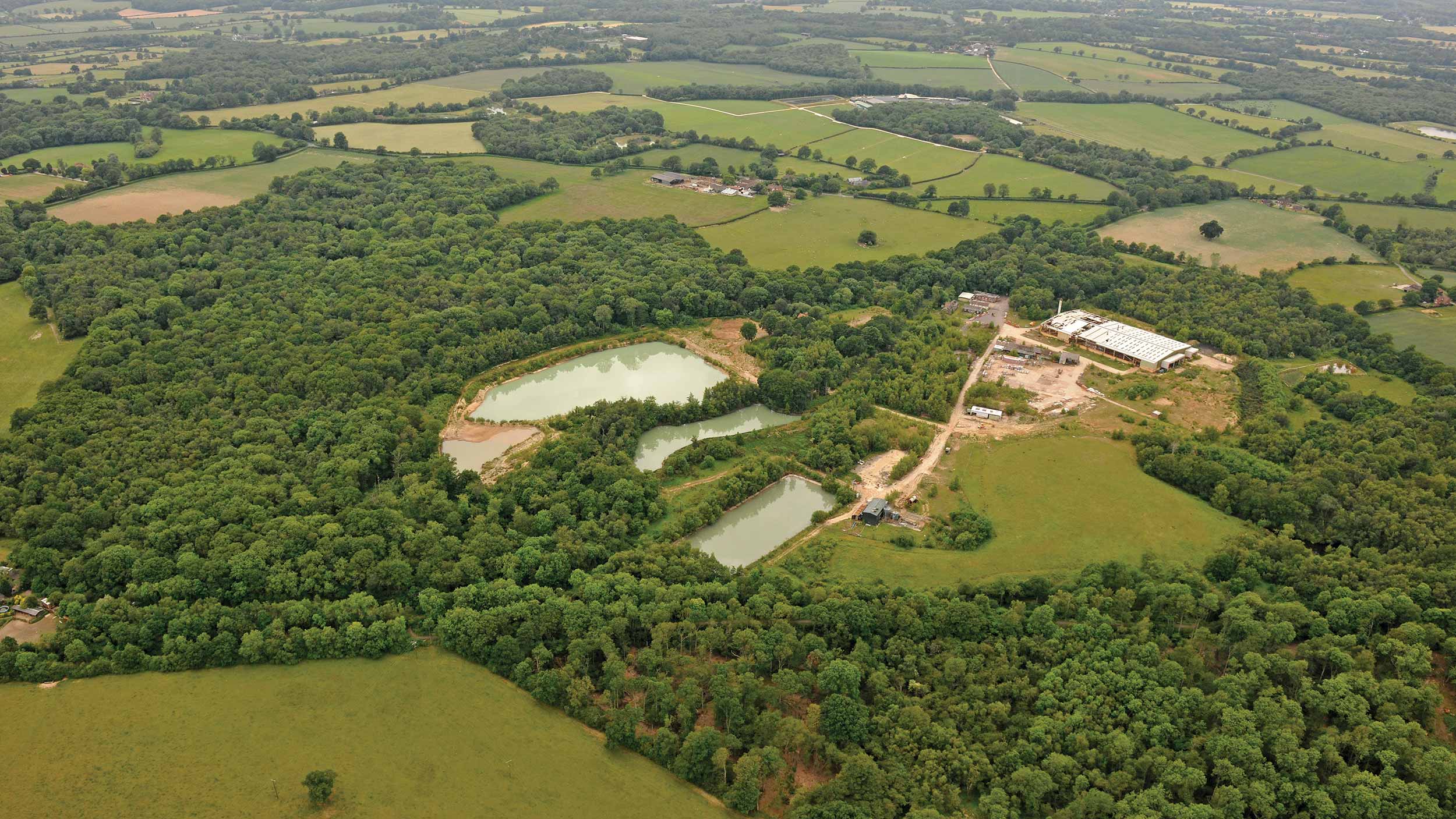 Remediation of brick, quarry and chemical works
Cranleigh Brick and Tile Works is located 8 miles southeast of Guildford in Surrey. The site has a long and chequered history from clay production in the early part of the 20th century; during WW1 the site was a munitions store; between 1937 and 1989 it was used for a range of chemical manufacturing processes; between 1990 and 2004 the site reverted to a brickworks with clays sourced locally on site.
Since 2004 there has been no industrial activity with the redundant infrastructure falling into significant disrepair.
 
The chemical activity at the site was less controlled than required by modern standards and as a result practices took place with little or no regard to the environment and human health. The surface of the site is contaminated with hazardous fibres through previous manufacturing processes and building materials. It has been generating significant quantities of heavily polluted leachate through chemical contamination within the ground which runs out during rainfall polluting the local watercourses (Collins Brook and Cranleigh Waters). As a consequence the site was determined as contaminated land and listed as Special Site no. 1 in 2000. Along with the introduction of the Water Framework Directive, this has driven the need for remediation.
Rural Arisings plan to regrade the landform with low permeable soils to cut the pathway that mobilises leachate contamination. This will divert rainfall across the new surface into a restored quarry for storage and attenuation. In future, the greatly reduced contaminated runoff will be contained and cleaned on site. There will be 19 houses as enabling development located on uncontaminated areas that were not used in the site's chemical history.
 
The existing Ganisters pond will be connected to the South Downs Link via a public footpath that runs parallel to the site.
 
The site features very rare, protected and high priority animal species and the surrounding mature woodland is of significant ecological importance. The UK's first discovery of breeding Alcathoe's Bats was made here in 2010 and very rare Bechsteins Bats are known to breed nearby. Six UK Biodiversity Action Plan bird Species of Principal Importance occur on site including Barn Owls and Cuckoos, with 47 known bird species present. Common Lizards, Grass Snake and Slow Worms on site qualify it to be on the Key Reptile Sites register, and Great Crested Newts are also abundant.
Whilst some species are doing well, many others which really should be here, are not. The heavily contaminated water contains Deildrin pesticides, which significantly impacts invertebrates and the animals that depend on them. This includes Pipistrelle, Daubenton's, Noctule's, and Serotine's bats, all of which are scarcer than expected, and the contaminated water supports less biodiversity than expected of this habitat. Furthermore when this water flows into the surrounding Oak woodland it impacts other species in the water, on the ground and in the air.
 
More clean woodland, a number of purpose-built ponds and ditches, water bodies, hibernation shelters for reptiles and newts, wildflower meadows, bird boxes and even an underground bat cave will feature at the site, making it an oasis of habitat diversity within well-established surrounding woodlands.
 
You will find further information and updates about the work on site on our Cranleigh Blog